@ a< href="http://sap.rssfeeds.pw">Sap RSS News



Details



Category: Europe


Published on Thursday, 14 November 2013 10:16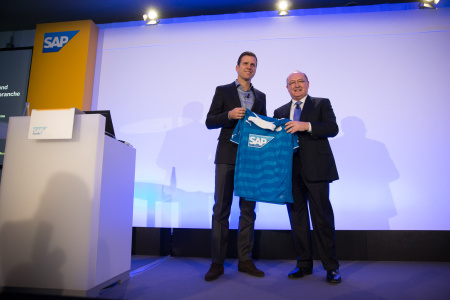 By Paul Nicholson
November 14 - German data giant SAP has increased its foothold in football and signalled an intention to grow its business in the sports area with an expansion of its relationship with the German Bundesliga football club TSG 1899 Hoffenheim and the addition of German national team manager Oliver Bierhoff as a brand ambassador.
Based on market capitalisation, SAP is the world's third largest independent software manufacturer with more than 251,000 customers in 188 countries, 66,000 employees - and locations in more than130 countries - and annual revenue of €16,22 billion. The company is listed on the Frankfurt Exchange and NYSE.
TSG 1899 Hoffenheim has been using software from SAP for a number of years, including the enterprise resource planning (ERP) application SAP® ERP for financial accounting, merchandising and e-commerce.
The club is now expanding the relationship to include implementation of SAP® Event Ticketing software and intends to migrate to SAP® Business Suite software powered by SAP HANA and the SAP HANA® Enterprise Cloud service.
SAP HANA is the data analytical backbone of SAP's service and provides enormous flexibility and power when it comes to looking at data and searching for optimum and creative solutions. This power has now been harnessed into a player analysis tool for coaches.
By data collecting data from wearable sensors and then analysing it in SAP HANA®, the club can gain real-time insight into player and team playing behaviour, which can help improve performance.
"SAP is a long-standing partner, and TSG 1899 Hoffenheim has used software by SAP intensively and successfully for many years," said Peter Rettig, CEO, TSG 1899 Hoffenheim. "With this new development, we are taking our performance to the next level. SAP technology will give us an immediate advantage over our competition."
The club and SAP are developing a real-time player analysis solution based on the sensor data collected and in-memory geospatial processing of SAP HANA. Sensors are place in shin guards, clothing and the ball itself, enabling the collection of an enormous amount of actionable data from training. The data is then analysed using SAP HANA.
Based on these analyses, coaches are developing new ways to improve a player's game. Capability characteristics, such as acceleration, speed and ball contacts are calculated in real time for individual players or the whole team and visualised via an easily configurable user interface.
This data can then be used to personalise training to target the strengths and weaknesses of individual player and create the most effective training plan possible. For examle, spatial analytics can be applied to individual and team movement profiles in order to track distances, speed averages and ball possession as well as player tendencies. The information can also be used to help reduce the risk of injury – the objective being to optimise levels of play.
"Whether in the regional or the top league in German football, we have supported TSG 1899 Hoffenheim as a technology partner," said Gerd Oswald, member of the Executive Board of SAP AG, Scale, Quality & Support. "The real-time analysis of player and team performance based on SAP HANA will help not only to elevate levels of play, but provide foresight to customize trainings accordingly and in a way not previously possible."
As a brand ambassador Bierhoff will advise on sports strategy, using his network of international sports contacts. He will also take part in public appearances on behalf of SAP.
Bierhoff was appointed manager of the German national team in 2004 and works alongside current head coach Joachim Löw. In a playing career that spanned 17 years, Bierhoff was successful with top clubs across Europe, including AC Milan and AS Monaco. He scored the first "golden goal" in the history of major international football for Germany in the Euro 96 final.
"SAP is at the cutting edge of technology, transforming sports both in Germany and across the globe. I am always looking for new ways to help the team improve, and expect SAP will help me gain further insights into our team performance and see German football run like never before," said Bierhoff.
Contact the writer of this story at This email address is being protected from spambots. You need JavaScript enabled to view it.
Subribe
Sap Feeds