@ a< href="http://sap.rssfeeds.pw">Sap RSS News
Bill McDermott is trying to change SAP's conservative, ERP-centric image for millennial employees and buyers.
SAP co-CEO Bill McDermott was in New York City earlier this fall, not to talk about the software company's latest quarterly numbers, its big data prowess, or its cloud awakening. He was there to emphasize SAP's youth movement, in the context of the company's commitment to environmental sustainability.
McDermott's forum was the annual meeting of the Clinton Global Initiative, where he participated in a high-powered panel session titled "Vital Resources: Doing More With Less" with several other business and environmental leaders, including Christiana Figueres, executive secretary of the UN Framework Convention on Climate Change.
For McDermott and SAP, becoming more ecofriendly isn't just about generating some good PR and cutting its energy costs. The company estimates that its renewable energy, smart building, datacenter efficiency, and other green efforts have contributed to a cumulative "cost avoidance" of more than $285 million since 2008, but the math for some of that savings is a bit fuzzy, like the tens of millions of dollars in savings it attributes to improved employee satisfaction and retention tied to such good-doing. Still, the company's environmental record is admirable, as it's on track to run on the same amount of greenhouse emissions in 2020 as it did in 2000, when its business was a quarter of the size it's projected to be in seven years.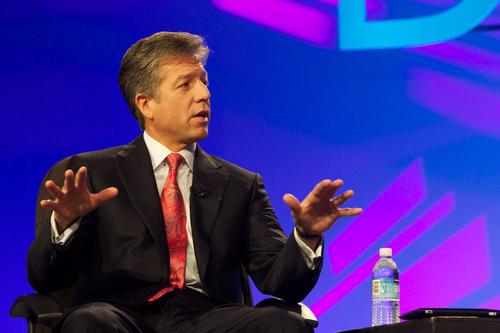 McDermott: SAP is focused on Millennials, a generation he views as "the largest purchasing class in the world."
But SAP's sustainability effort has less to with saving the world and more to do with changing the culture and brand and employee makeup of SAP -- from an old school, conservative, ERP-intensive, strictly B2B player to one that's plugged into the issues, technologies, and markets that matter most to millennials, the generation of current 20- to 35-year-olds McDermott describes as "the largest purchasing class in the world."
[ Looking to hire millennials? See How To Attract Young Talent: 10 Tips. ]
"What's fascinating about them is that 84 percent of them say with great clarity that they would rather make a difference in the world than get personal recognition for themselves," McDermott said in a wide-ranging interview with InformationWeek following his Clinton Global Initiative session. "So you're dealing with a completely different way of thinking of the world than a Baby Boomer has."
Practically speaking, McDermott noted that SAP's average employee age (36) is now "a year younger" than it was when the company appointed him and Jim Hagemann Snabe co-CEOs of the company in 2010. (McDermott is due to become sole CEO in May 2014, when Snabe moves to the SAP Supervisory Board.) "We're making the company younger," he said bluntly.
We're recruiting constantly. We need to hire young, brilliant people from universities. Train them to our culture, our standards of quality, no matter what function they're in. And put them through rigorous professional training and certification, much in the way great companies like Xerox and IBM did back in the 50s and 60s. It's back to the basics here. To me, sustainability is much more than natural resources. It's also people resources.
SAP, he noted, works with 1,390 universities worldwide through its University Alliance Program. Associate members take part in SAP competitions and contests, send students to the company's Innojams, Codejams, and Design Thinking events, and get involved with its Co-Innovation projects with customers and partners. Full members also gain technical access to SAP's Hana (in-memory database), mobility, and other software platforms.
In the area of corporate social responsibility, it dedicates the month of October to letting employees in about 40 countries do company-paid community service, particularly with schools and young people. McDermott estimates that SAP employees have logged more than 650,000 hours of such service since the program began in 2005. SAP also matches the charitable contributions of employees worldwide, up to $5,000 for US workers.
Beyond doing good, SAP is betting on three new businesses it's convinced will help the company do well (financially speaking) while attracting those bright young technologists. McDermott continued:
If you look what we did with our strategy since 2010, we went for mobile, we went for big data -- not only with the breakthrough invention of Hana, but also with the acquisition of Sybase, because we knew that data was going to be an important element of our strategy -- and we went for the cloud. Today, one third of our revenues in the Americas are coming from the cloud. We weren't in those businesses in a big way in 2010. I think those steps changed people's minds as to what SAP is.
McDermott didn't mention the fact that the main sources of the company's cloud revenue are two companies SAP recently acquired for a total $7.7 billion: SuccessFactors (HR and talent management software-as-a-service) and Ariba (procurement SaaS). SAP has had some success with the sales and financial SaaS apps it developed on its own, but its Business ByDesign suite of SaaS ERP applications for midsized customers is off to a slow start. SAP points to the Hana Enterprise Cloud as its next big cloud move, but critics consider that offering to be hosting, not the kind of multitenant service most companies expect when they think cloud software.
More Insights
Subribe
Sap Feeds